GOSA REGISTRATION FORM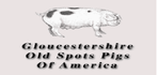 Use the ONLINE form below to complete the registration of newly born pigs.
Please note registration fees:
Registered within 90 days of birth: $5.40 / piglet
Registered after 90 days of birth: $10.40 / piglet
Please note that the prices now include a $.40 s/h fee.
If you prefer a paper form, please complete this form and send it along with pictures and a check to the address on the form.
If you are missing a registration  or have deleted an e-registration, please email the registrar for assistance.
---
Only current members of GOSA are allowed to register animals. Please log in or become a member to use this form.